Being one of the biggest tech companies on the planet, it should be no surprise that landing an interview (and a job offer) at Meta is no easy feat.
And with the latest news of a tech hiring freeze, doing so maybe even more competitive than ever.
The social media tech company receives hundreds of thousands of applications every single year.
However, don't get discouraged!
Despite this difficulty of the interview process, you can get your foot in the door with a Meta job referral from someone already at the company.
But how do you actually do that?
Here's a handy guide on how to source these referrals at Meta: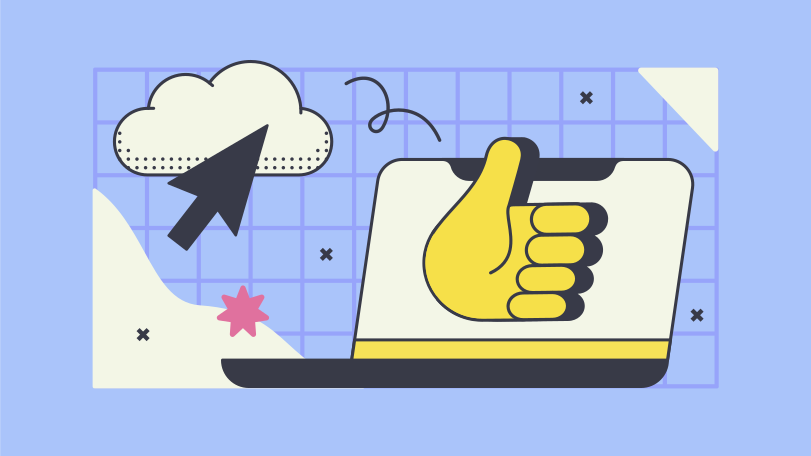 Having an internal referral on hand may make the difference between an invitation to an interview or being passed over for another candidate. Big companies like Meta, Apple, and Google all weigh referrals during the interview process.
After all, Meta hiring managers need to sift through countless applications and resumes.
A referral from another member of the Meta team is a vote of confidence that will help your application stand out, especially for new grads and junior employees.
Nevertheless, this doesn't mean you should simply find a referral from just anyone you can at Meta. Instead, you should do your best to find a referral that matches the following:
Role: Your Meta referral will be much more effective if it is from someone in the same position you're applying to at the company. A referral from a Meta marketing manager as a software engineering candidate, for instance, may not be as compelling as a referral from an engineering manager.
Seniority: The higher up you go, the better. The hiring opinions of more Senior Meta employees will hold significantly more weight than that of junior employees.
Team: Just like trying to match the role, you should try to source your Meta referral from someone in the specific team you're hoping to join. This, especially, may really pique the interest of a Meta hiring manager.
Familiarity: Sourcing a referral from someone deeply familiar with you as a person and as a candidate may be challenging, but recruiters can tell the difference.
Quantity: Don't make the mistake of thinking you only need (or want) a single referral. The more referrals you can get from Meta employees, the greater your chances of an interview.
Nevertheless, a Meta referral can do more than just get your foot in the door. Having referrals behind your application can also pull weight during your interviews.
As you can see in the outline of Meta's interview process, you'll need to speak with several members of the Meta team before ultimately receiving a job offer.
The recruiters, hiring managers, teammates, and managers will submit their feedback on your interview performance together when making a hiring decision.
The referrals you've received will be accounted for during these deliberations and can help get you to the finish line.
Even so, you may still feel uncertain about how to find your Meta referrals. Not to worry, here's how you can do it: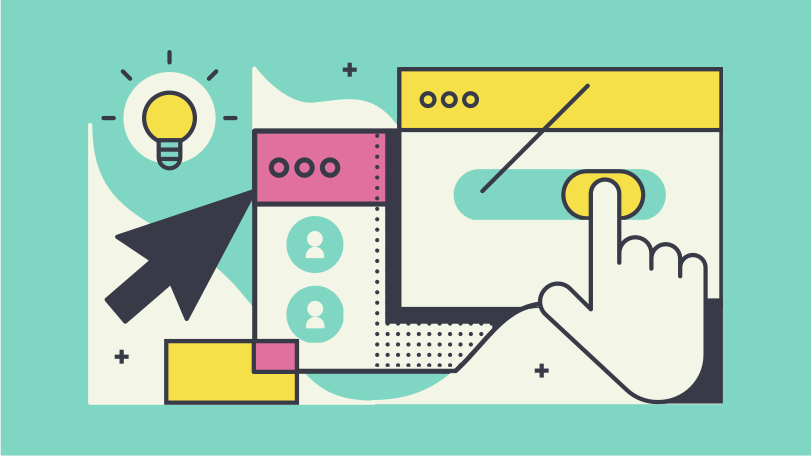 First and foremost, the easiest way to source a Meta referral is to reach out to anyone you already know that works at the company.
As we mentioned, the familiarity of the referral can help bolster the influence it has on hiring managers, so this should always be your first step.
If you don't know anyone that works at Meta, try reaching out to a friend of a friend or asking others in your network for any possible introductions to Meta employees.
Besides that, there's another powerful tool you can leverage to find Meta referrals.
LinkedIn.
We recommend playing with LinkedIn's powerful search features if you haven't already.
LinkedIn search allows you to quickly find people that work at Meta and who work in the roles you're applying to.
Here's how you can do it:
First, type in the company name (Meta) in the search bar. Then, click on the "Advanced Search" tab to bring up a page that looks like this: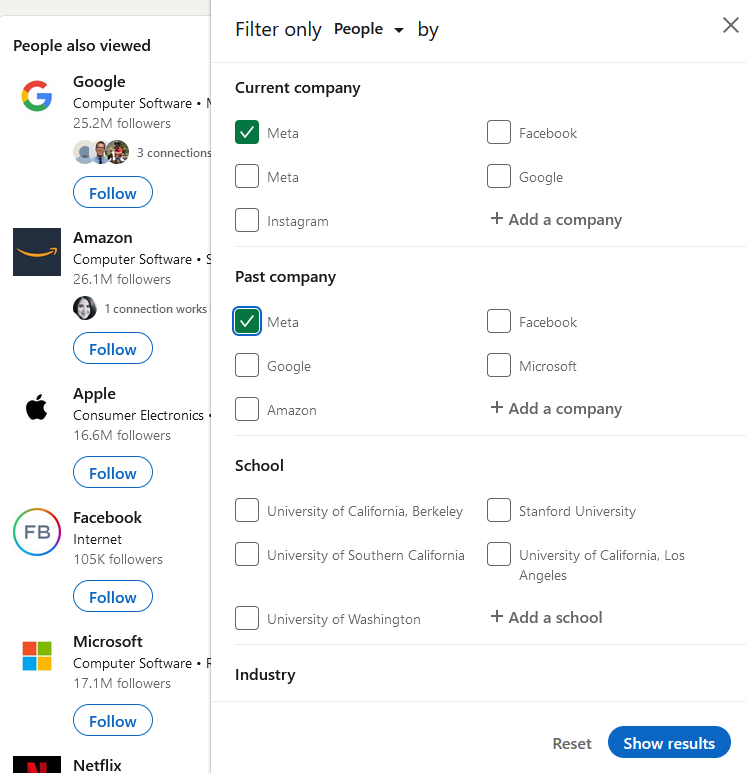 Be sure to filter by 1st or 2nd-degree connections already in your network, as these people will be more likely to agree to refer you.
Beyond the search features, you can leverage LinkedIn's social media features to find a Meta referral.
Simply make a post telling your personal network that you're looking for an interview at Meta for your particular role and could use a referral or two.
You could always try sourcing a Meta referral from your university's alumni networks outside of LinkedIn.
If you find a fellow alumn currently working at Meta, reach out! Typically, alumni like to stick together, so, chances are, they would be willing to refer you to the company.
Nevertheless, it's still possible to try all these steps and come up short.
Don't get discouraged! We know it can be frustrating or disappointing to be unable to find a Meta referral. However, it's still possible to get an interview!
To help solve this problem, Exponent is testing a beta version of our referral network platform for members of our community.
If you're having trouble finding a Meta referral, feel free to sign up here to join.
Nonetheless, finding possible referrals is one thing. Successfully asking for one is another.
Here's how you should ask for your Meta referrals: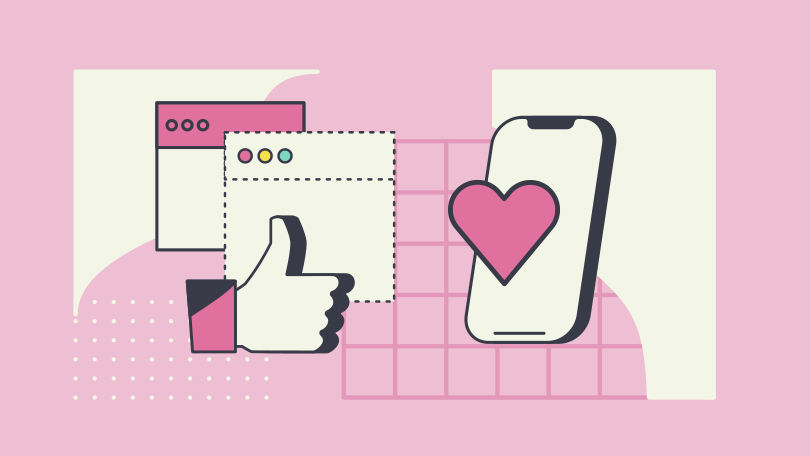 We get it. It's always going to feel a little uncomfortable asking people for something like a job referral.
It could undoubtedly feel a little socially awkward or anxious to do so, especially if you don't know them well.
You may not realize it, but like many Big Tech companies, Meta offers its employees an incentive for successful sourcing referrals.
So, don't feel like you're putting someone out for asking for a Meta referral. They want you to succeed, especially if they think you'd be a good fit at the company.
If you're feeling uncertain about how to approach someone at Meta for a referral, feel free to use these cold email drafts as inspiration:
Needless to say, it is a lot easier to ask a close connection or a friend for a referral.
You don't really need to do anything special here. Just send them something simple like:
"Hey, Tony! I'm looking to apply for a few roles at Meta, including the Meta Product Manager position. I know getting a referral can help my chances of being invited to an interview. Would you be able to refer me? If you're willing, I'd be happy to give you more details to make things as smooth as possible!"
The main takeaways from a message like this:
Remember that this is a close connection or friend. There's no need to make things super formal. Keep it casual and friendly.
Be sure to mention what positions you're applying to.
Most people already know, but it's still helpful to say how their referral will help get you an interview.
Offer to make it as easy as possible for them. People will be much more willing to offer a referral if they know you'll provide all the necessary context to make referring you as effortless as possible.
This is where things start to get a little tricky.
However, let's imagine that you're reaching out to someone from your university alumni network.
Your request could look something like this:
"Hey, Tony! I'm a fellow Princeton alumn and am applying for a Meta Software Engineer role this year. I saw that you currently work at Meta as an engineer. I just want to say that working in the Meta engineering team is my dream job, especially after my experiences with the Virtual Reality Programming program at the Stokes Library. I noticed you work on the Meta Quest team, one of my favorite Meta products!
I was hoping to get your advice on applying to the Meta SWE position and what the experience working at Meta has been like for you. If, after speaking more, you thought I might be a good fit for the team, I'd love to ask you for a referral!" I'll be available on Wednesday and Thursday if you're up for a quick chat. Although, I'm willing to work around your schedule if need be."
Here are the main takeaways of this kind of message:
Be sure to note your shared connection. In this case, it's having gone to the same university.
Demonstrate that you did your homework. Here, in this message, we mentioned that our university experiences match the purview of Meta's mission. Anything that showcases how you'd be a good fit for the role will strengthen your request.
Be upfront and honest. You shouldn't try to disguise the fact that you are, in fact, asking for a job referral.
Make the next steps very straightforward in your request. Here, we mentioned times we'd be available to talk further.
You, personally, may not have anyone in your network that you can ask for a referral.
Chances are, however, there is someone in your network that you can for a referral on your behalf.
Here's one way you can do that:
"Hey, Tony! I'm applying for a few positions at Meta, including the Product Manager role. I know that having a referral alongside your application can really boost your chances of getting an interview.
I see you're connected to Stephen Cognetta, who works at Meta as a product manager. I thought we could potentially have a fruitful connection considering we both have professional experience in the public and private sectors. Would you be receptive to delivering a message to them on my behalf to see if they'd be willing to talk more? I would draft the message for you to pass along to make things easier."
Here are the main takeaways of a message like this:
Be sure to emphasize why you'd connect well with the other person. Showcase the commonalities between you and the other connection to strengthen your request.
It's best to say you'd draft the message you want to be sent to the other person. This makes it as easy as possible to accept your request.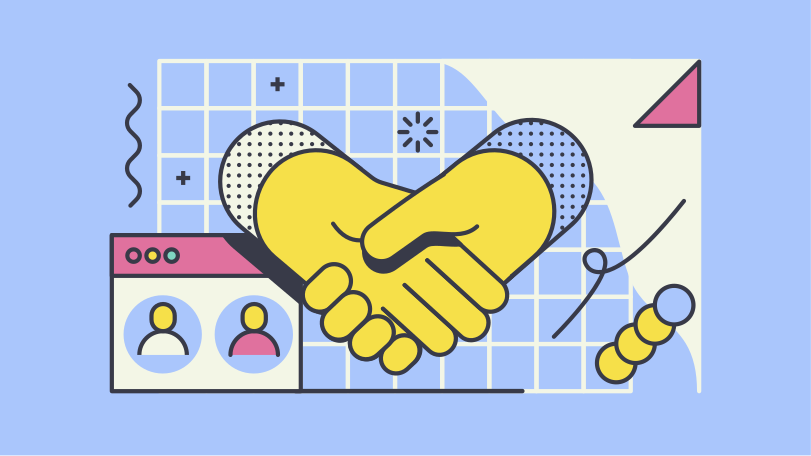 Hopefully, everything has gone well, and you've gotten your Meta referral(s)!
What now?
Don't be surprised if a Meta hiring manager asks questions about the referral, such as how the referrer knows you and their role at Meta.
Once your referral has been submitted, you have a good chance of getting a call from a recruiter. However, referred or not, you should still formally apply to the role on the Meta Careers page.
The first step of the Meta interview process is the recruiter phone screen. These are typically short conversations about the basics of your resume and professional experience.
If all goes well, you'll be invited to further interview rounds!
It's always best to start preparing for your upcoming interviews before submitting your application.
Given how competitive the process is, we recommend getting as much practice under your belt as possible.
Here are a few of the most common questions that a Meta hiring manager may ask you:
More Interview Prep Resources
Complete PM Interview Prep Course
Our product management interview course teaches you the essential skills you need to ace your PM interview, with hours of example questions, videos, and interview tips.
Start Learning
Hopefully, this guide has helped you source a referral from Meta.
Nevertheless, you'll need more than that to get to ace the interview and receive a job offer.
Luckily, there are dozens of interview prep resources on Exponent to help you do just that:
💬 Get prepared with example Meta interview questions
📖 Read through our Meta interview guides
👯‍♂️ Practice your behavioral and interviewing skills with our interview practice tool.