Writing a great product manager resume helps you stand out when recruiters or hiring managers start to interview candidates.
At Exponent, we've seen hundreds of resumes for dozens of companies and roles.
Given the often ambiguous nature of product management, it may feel pretty challenging to write an effective product manager resume.
As you can see below, our co-founder Stephen knows this well. Watch him critique his old resume that landed him an Associate Product Manager position at Google.
he best performing product managers are candidates who are inquisitive, methodical, and mindful of their own limitations or weaknesses.
They're skilled at formulating solutions to complex product problems and establishing precise and measurable development goals. In fact, these types of qualities are often what hiring managers are looking for when they ask product manager interview questions.
While product managers may not be managing people (but rather products), they still must work alongside and lead cross-functional teams to achieve these goals.
These job duties require a diverse skill set that may feel somewhat ambiguous to demonstrate on a resume.
Here's what our co-founder Stephen's product manager resume looks like: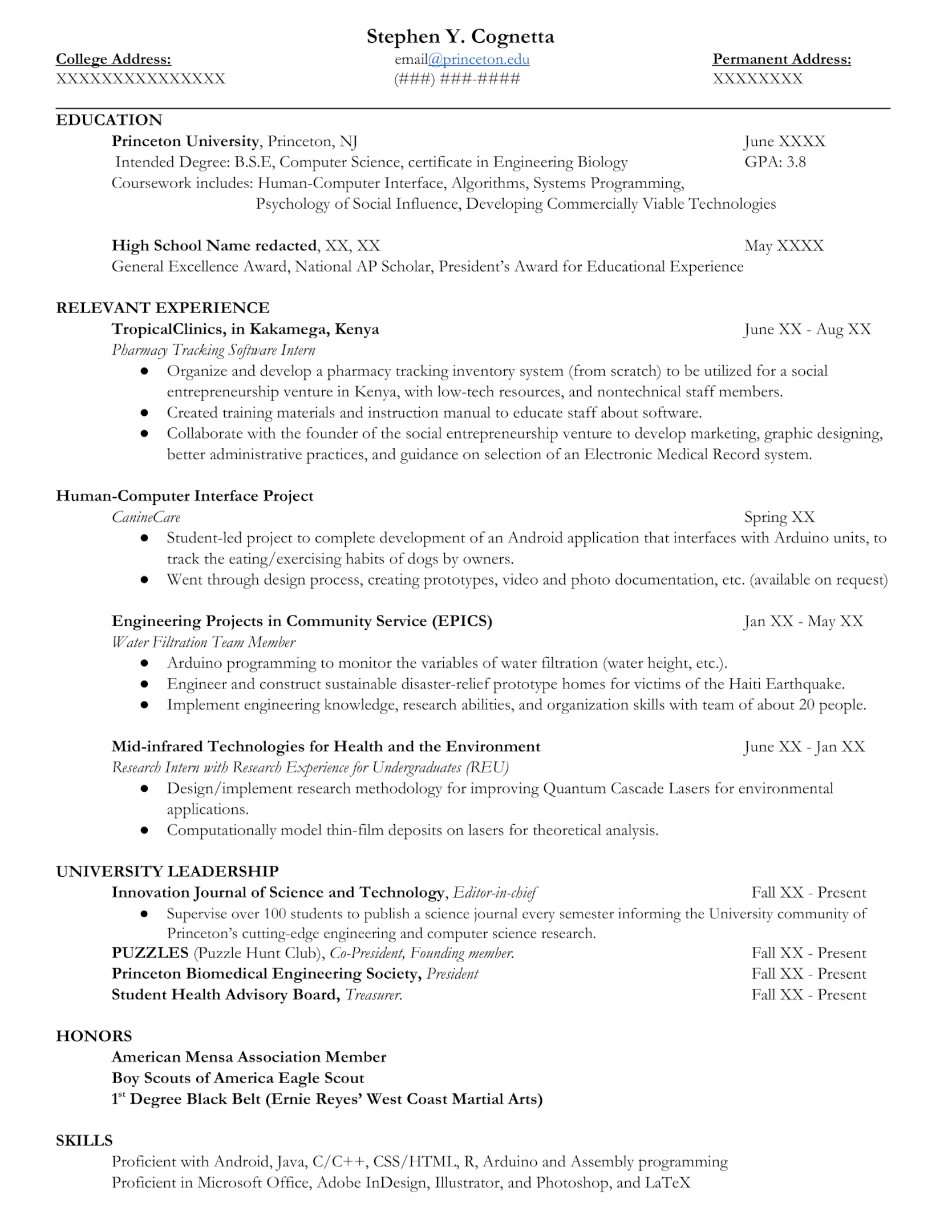 However, we wrote this handy guide and definitive product manager resume checklist to help clear up any confusion or uncertainty you may be feeling.
We will detail, section by section, exactly how to write the perfect product manager resume that will land more interviews.
From there, so long as you know how to ace the product management interview, you'll be receiving job offers to your dream tech job in no time!
Table of Contents:
How to Write A Product Manager Resume (Section by Section Guide)
---
How to Format Your Product Manager Resume
First and foremost, let's cover how to format your product manager resume.
Keep your product manager resume length limited to a single page.
Read that sentence again.
Candidates often feel they need to put as much information as possible on their product manager resumes, running up the length to 2 - 3 or more pages.
And, we get it. Product management is a complex role - there's probably lots to talk about from your previous product manager jobs.
Still, recruiters review hundreds or thousands of resumes per product manager job. They simply don't have time to review resumes longer than a single page.
Secondly, be sure that you use 11pt font throughout and include 1-inch margins.
Don't make the mistake of thinking you can shrink the font size to pack even more info into your single page.
A high-performing product manager resume is easily skimmable and readable. This means making use of the bullet point.
Write your resume in such a way that it can be read within a few minutes with all the relevant highlights being immediately apparent.
💡
Remember: Your product manager resume should be one page. Use 11pt font, 1-inch margins. Don't use pictures or images. Make it easy to skim.
The header is the very top part of your resume. It should include little else besides your name and your contact information.
Nevertheless, some people can tend to go a little overboard here.
Many candidates mistakenly believe they need to include a lengthy personal statement or professional summary. Professional summaries are seldom required except for more senior product manager positions requiring years or decades of experience.
💡
Remember: Keep your header brief; only include your name and contact information in your product manager resume header.
Education
Next up is the education section.
Where Should You Put Education on Your Product Manager Resume?
The education section of your product manager resume should go above or below your Relevant Experience section.
Where you place it all depends on how long it's been since you graduated.
New or recent graduates (within five years) should keep education near the top.
Product management candidates with 5+ years of experience should place it below their relevant experience.
What Education Information Should You Include?
The education section should be short and concise.
Do not include where you went to high school or specific coursework you completed in college.
Also, unless you recently graduated and going for an entry level product manager job, don't include your GPA either.
Your education becomes less important if you have years of product management experience that are more relevant to the job listing.
The only time your education section is important is if you're applying for an internship or APM program where you have no existing work experience. Your "work" experience is the time you've spent in school.
💡
Remember: Only include information about where you went to school, what you majored/minored in, and when you graduated on your product manager resume.
Relevant Job Experience for a Product Manager Resume
We cannot emphasize this enough:
The relevant experience section of your product manager resume is the most critical part.
In the end, it is the resume.
This section is where your recruiters will decide whether to give you a call or toss your resume out.
But don't worry, this is also where you can demonstrate your skills and experience as a product manager!
Use bullet points: A great product manager resume is easily skimmable. Don't use paragraphs to highlight work experience. Bullet points allow your recruiter to review your resume quickly without missing important information.
Don't use more than 5 bullet points per section: While your Relevant Experience section should consist of bullet points, don't go overboard. Remember that an essential aspect of product management is the ability to prioritize. As such, prioritize the most critical information and keep the number of bullet points to five or fewer, ideally three or four.
Include concrete numbers or statistics: Include as many quantifiable metrics as possible. These substantial numbers demonstrate the impact you had during your time at a given company. For instance, instead of writing "was a member on the growth team," write that you "grew the platform from 200K DAUs to 1M in two years, with a 10% increase in conversion rate."
Explain lesser-known companies: It's not necessarily bad to have product management experience at lesser-known companies. But, you should still remember that if most people haven't heard of the company, there's a good chance your recruiter won't know it either. In these cases, it's prudent to include one line to briefly explain this company. Provide a quick elevator pitch along with any significant company accomplishments (e.g., funding rounds, number of users, etc.)
Place action words at the beginning of sentences:  For maximum impact, always start your bullet points with actions words. Here's a great list if you need some inspiration.
💡
An example of a well-written work experience on a product manager resume might look like:

John's Web Agency (Jan. 2019 - Sep. 2020)
John's Web Agency is a family-owned web development agency in Los Angeles, CA.

• Developed a scalable web-app using NodeJS to manage project revisions. Reduced development time by 15%.
• Streamlined customer databases to make the site load 25% faster.
• Implemented Scrum framework for development team that boosted our employee NPS and reduced turnover.
Relevant Skills
Finally, an effective product manager resume will include a small product manager skills section at the bottom of the page.
This section here should be no more than two lines.
While you should include some of your hard, soft, and technical skills, this section is your opportunity to showcase those skills outside the scope of the job description.
Include hobbies you have outside of work or projects you've worked on that aren't in line with your core responsibilities.
This helps present you as a more well-rounded candidate. Good companies hire people, not robots. Your skills section can help you stand out.
💡
Remember: All skills that are directly pertinent to the role should be demonstrated in the relevant experience section of your product manager resume.
What Are Hiring Managers Looking For in a Product Manager Resume?
Before you actually sit down and write (or rewrite) your product manager resume, first learn what a hiring manager is looking for when reviewing them.
The truth is, most job postings receive hundreds of applicants. That's especially true at the biggest tech companies.
Chances are the hiring managers, product managers, or even technical program managers overseeing a department that ultimately see your resume will be reviewing countless others too.
What does this mean? Your hiring manager will only look at your resume for a brief amount of time.
After that, it could take as little as a few seconds for them to reject it for a myriad of reasons.
If you really want to get that job offer, you need to ensure your product manager resume has what they're looking for.
That is, your resume needs to include searchable keywords, relevant experience, and relevant skills.
Keyword Optimization for Your Resume
It is common practice for hiring managers and HR departments to use ATS to help them sort through resumes.
ATS, or Applicant Tracking System, is an automated tool that scans resumes for relevant or chosen keywords. Just like a search engine, ATS weeds out or highlights interesting resumes.
As such, your product manager resume will need to include the right keywords both for the specific job listing and the role more generally.
Otherwise, you risk having your resume deleted by the employer's ATS without ever being seen by a human!
These keywords could include:
product strategy,
data analytics,
UX feedback,
market research,
project management,
aligned stakeholders,
and more.
It may feel like a mission in itself to write an ATS-friendly product manager resume. Thankfully, there are tools like Jobscan that help make it easier. You can also find an ATS-friendly resume template online to save you time in the long run.
If you're feeling stuck, review the job description and identify key job duties and responsibilities for your keyword inclusion.
Relevant Experience
If your resume has the proper ATS keywords, it has a good chance of making it to a recruiter's desk.
From there, they'll skim through the relevant experience listed on it.
This part of your resume is the most important. Below, we'll break down how to talk about your prior job experience, even if it's not in a PM role.
Skills
Recruiters are looking for the skills demonstrated by the content of your resume.
Given the nature and various responsibilities of a product manager, recruiters will be looking for many different hard and soft skills.
Again, many of these will be directly listed in the job description.
While a "Skills" section should be included in your resume, it should actually be relatively brief.
The hard and soft skills necessary for landing a product management position should be demonstrated by your relevant experience section for maximum impact.
The Difference Between Junior and Senior Product Manager Resumes
Despite the same underlying job function, there are some key differences between junior and senior product managers.
You'll need to reflect these differences in your resume depending on which role you are applying to.
Of course, the most immediate distinction is in years of experience. Junior PMs may have little (or no) professional experience working as product managers.
Senior PMs have at least a few years under their belts.
But that's not all:
Leadership
Leadership skills are a vital component of any product manager resume, but for senior product managers, it takes on a whole new level of importance.
It's a subtle shift, and yet, it's the defining characteristic that sets the veterans from the newcomers. As a junior product manager, you'll likely spend a lot of time getting your hands dirty and honing your craft.
For example, conducting market/user research, focusing on specific product features, and collaborating with colleagues and stakeholders from engineering, marketing, design, sales, and other cross-functional teams.
Therefore, if you're writing a resume for a junior product manager position, these are the things you'll want to accentuate throughout.
As you progress into a senior PM position, your leadership skills become crucial to guiding and mentoring others while also making strategic decisions that will drive the success of the product and the organization.
Senior Product Managers are the orchestrators, if you will, of the product development process. They conduct the symphony of product ideas, strategy, and execution.
Senior PMs handle the high-level work while empowering their team of junior PMs and others to execute the finer details. They are not only responsible for the success of the product but also for the growth and development of those they lead.
This means they must also act as mentors, guiding their team members to reach their full potential. In larger companies, they also wear the hat of a talent manager, recommending their team members for promotions, acting as an advocate for fair compensation, and deftly navigating any conflicts that may arise.
Authority
Similar to that of leadership, another crucial difference between junior and senior product managers is the authority of each position.
Junior PMs may have the term "manager" in their job title, but that doesn't mean they have the authority to issue orders or tell anyone what to do. Even so, their jobs require the flexing of authority, just in a soft power type of way.
That is, they need to use influence to guide teams, change their minds, and make decisions.
This kind of soft power influence requires strong interpersonal skills, cross-functional collaboration, a keen sense of empathy (both for the customers and other stakeholders), and data-driven decision-making skills.
Therefore, these are the qualities that should be exemplified in your junior PM resume.
Senior product managers, however, may have real tangible authority in their organizations. Typically, they'll have several other junior PMs and others reporting directly to them and looking to them for direct guidance on development decisions.
This may also give senior product managers significantly more autonomy than junior product managers.
As such, this more 'official' kind of authority must be reflected in your senior product manager resume.
Scope
With greater authority and leadership comes a greater scope.
In other words, junior PMs may be focused more on the delivery of specific features, while senior PMs are more concerned with the overall product strategy or vision.
As we mentioned earlier, the scope of a senior product manager's responsibility may be focused on facilitating the delivery of the product strategy and vision they helped define and develop. Whereas junior PMs are often helping with the grunt work to make it happen.
---
So, with all that said, here's how these differences may look in their respective resumes:
Senior Product Manager Resume
✍️
Senior Product Manager, Umbrella Corp
- Led the development and launch of a new product line, resulting in a 20% increase in company revenue within the first year.

- Managed a cross-functional team of engineers, designers, and marketers to deliver a suite of mobile apps, resulting in a 50% increase in user engagement.

- Conducted market research and identified new business opportunities, resulting in the acquisition of a key competitor and a 30% increase in market share.

- Implemented agile methodologies and streamlined the product development process, resulting in a 40% reduction in time-to-market.

- Collaborated with sales and customer success teams to gather customer feedback and drive product roadmap priorities, resulting in a 15% increase in customer satisfaction.

- Built and nurtured relationships with key industry partners, resulting in the launch of several successful co-branded products.
Junior Product Manager Resume
✍️
Junior Product Manager, CHOAM
- Assisted senior product managers in conducting market research, analyzing data, and creating product roadmaps.

- Contributed to the development and launch of new products by creating presentations, user personas, and wireframes.

- Worked closely with design and engineering teams to ensure product development met customer needs and goals.

- Participated in customer focus groups and provided feedback to the product team.

- Maintained accurate and up-to-date product documentation and tracked product metrics to measure success.
Tips and Tricks for the Perfect Product Manager Resume
Highlight Quantifiable or Specific Results
One of the most effective things you can do while writing your product manager resume is to include specific numbers or statistics.
A recruiter reviews a resume to evaluate if a candidate will have a demonstrable impact in their role.
The best way to show that you are such a candidate is by highlighting the quantifiable and verifiable effects you had in previous positions, whether that be in a former product manager job or otherwise.
Include as many specific results from the products/features you've shipped. The more numbers and metrics you include, the better.
Accentuate Your Technical Knowledge
While it's true that you can still land a product manager position without a ton of technical expertise under your belt, it certainly helps if you do!
This is especially true at some of the big tech or FAANG companies.
Learn about as many different frameworks, processes, and methodologies as you can.
Having experience with various methodologies such as Agile, Kanban, Scrum, or Waterfall, can really help set your resume above the rest.
The job posting in question will likely list the methodologies, frameworks, and technical processes they are looking for in their candidates.
If they do, be sure to include these if you have knowledge and experience in them.
Remember to Keep It Concise
While it's true that the bulk of your resume should be in the Relevant Experience sections, this doesn't mean maximizing the number of bullet points in each role.
A perfect product manager resume is short and sweet.
There's no reason your resume should be more than a single page for any reason.
Don't feel discouraged by this. This length constraint will help you prioritize what is most important, which will ultimately make for a better resume in the end.
---
Product Manager Resume Sample from Former Google PM
And, that's it! These are all the most common insights we've learned from reviewing thousands of product manager resumes here at Exponent.
Our co-founder, Stephen's product management resume, can be found below if you're interested in a successful product manager resume. To clarify, this is the resume that landed him an Associate Product Manager position at Google.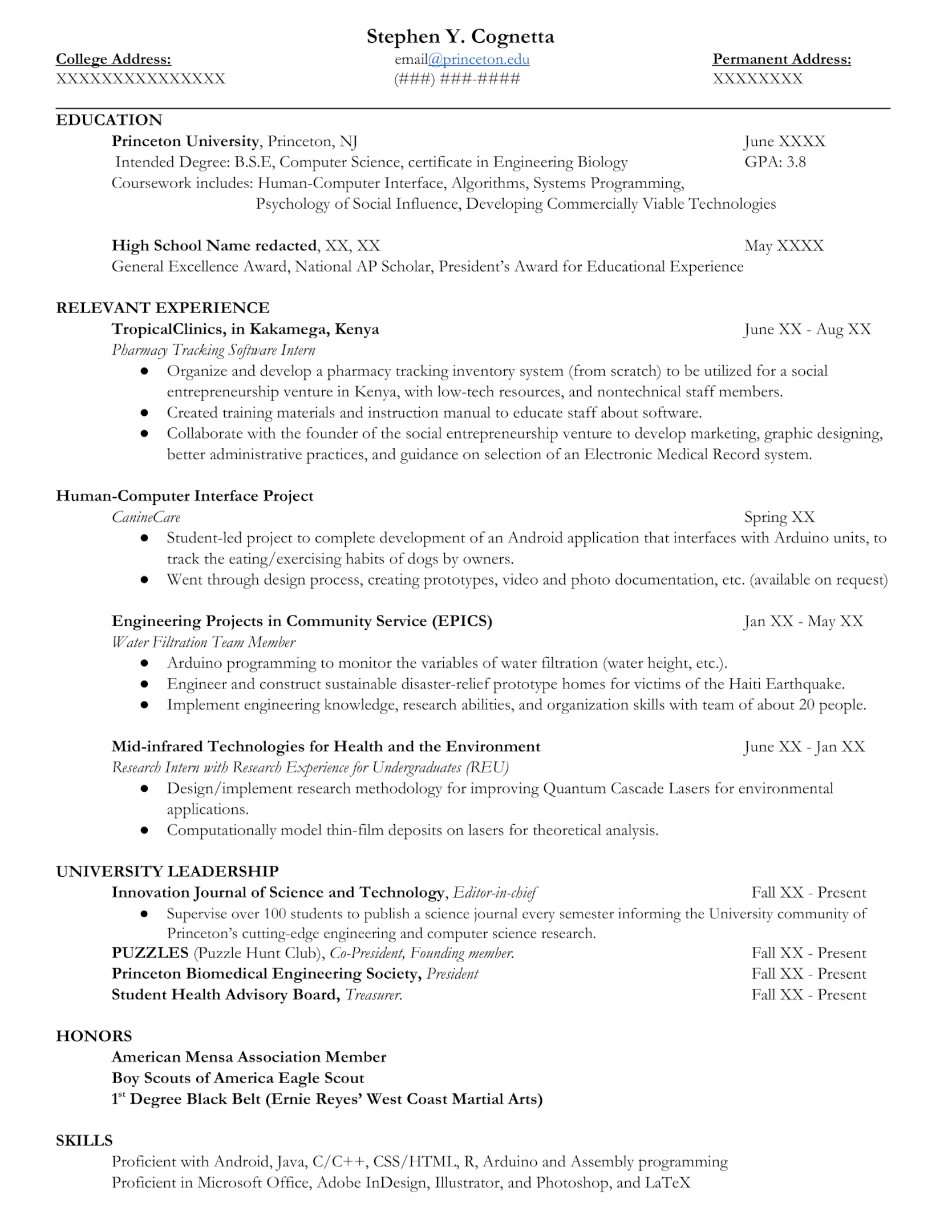 Of course, you can find many other product manager resume examples online. Not only that, you can find product manager resume templates to make the process of writing your own a breeze.
More Product Manager Interview Resources
Hopefully, this guide was helpful in your efforts to write the perfect product manager resume. If so, then you may have some product manager interviews lined up!
Naturally, getting your foot in the door with a great product manager resume is only the first step. Now, you'll need to ace the interview to finally get the job offer. So be sure to check out some of our interview prep and PM-specific resources to help you do just that!
💬 Review more commonly asked sample PM interview questions.
📖 Read through our company-specific Product Manager interview guides
👯‍♂️ Practice your behavioral and leadership skills with our mock interview practice tool.
👨‍🎓 Take our complete Product Management interview course.